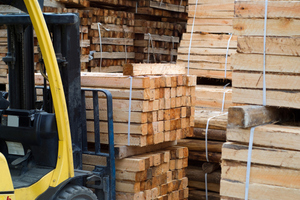 A national company with a history of workplace accidents has been ordered to pay $50,000 to a worker who lost a leg in an accident at one of its Northland plants.
Carter Holt Harvey (CHH) pleaded guilty to a charge of failing to ensure the safety of its employee Tamihana Aramoana after the forklift he was driving collided with a 20-tonne log loader at the company's LVL plant at Marsden Pt on November 11, 2011.
It resulted in the amputation of Mr Aramoana's right leg below his knee.
The company was yesterday ordered to pay Mr Aramoana $50,000 in reparation and a fine of $44,000 by Judge Simon Maude in the Whangarei District Court.
Grant Nicholson, who represented CHH, said Mr Aramoana remained on full pay since the accident and the company was willing to give him work should he decide to return.
CHH took its responsibilities under the Health and Safety in Employment Act seriously as it employed 5500 staff across the country who were engaged in tough, physical and dangerous work, he submitted.
Mr Nicholson said there had been a 43 per cent reduction in injuries at the LVL plant at Marsden Pt over five years.
Judge Maude said an investigation by the then Department of Labour revealed there was limited visibility in parts of the general log yard area of the plant.
The machinery Mr Aramoana was operating did not have radio telephone communication, he said. The judge said an independent inquiry ordered by CHH after the accident found that he failed to keep to the left when approaching a ramp.
Mr Aramoana, 50, was hospitalised for 32 days and suffered lower back pain, infection to his leg stump and emotional trauma, Judge Maude said.
He was a keen golfer and diver but now tired quickly, was unable to perform 80 per cent of tasks at home and his relationship with his 10 children had been adversely affected.
Judge Maude said CHH had 30 previous convictions for workplace accidents and its failure to install a radio telephone in the machinery Mr Aramoana operated appeared to be an oversight.
The firm submitted that the appropriate amount of reparation was $30,000, while the department said $50,000 should be paid.
For more articles from this region, go to Northern Advocate