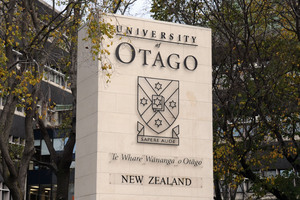 The University of Otago has approved a domestic fee increase of 4 per cent for next year as part of efforts to take on what it calls a "perfect storm" of financial pressures.
The increase follows a trend from previous years, with fee increases of 6.3 per cent (including 2.3 per cent to cover GST rising to 15 per cent) last year and 4 per cent for this year.
Otago University's council yesterday voted to raise all domestic fees by the maximum allowable 4 per cent, except for the Master of Business Administration (MBA) course - not subject to the Government's maximum fee movement policy - which was raised by 4.35 per cent. The increases equated to between $184 and $1500 a year per course.
Speaking at the meeting Otago University chief operating officer John Patrick said the fee increase came amid a "perfect storm" of financial difficulty, with flat enrolments, declining income and increasing costs all hitting the university at the same time.
This was outlined in the fee increase proposal by financial services director Grant McKenzie, which showed that additional income next year - including $4.6 million from the fee increases - of $7.2 million would not meet known cost increases, of $12.2 million.
Mr Patrick said this shortfall meant there would need to be cuts.
The university would not be alone in raising fees and the "indication" was that all would raise them by the maximum allowable 4 per cent, he said.
The university's operating surplus for the year to August stood at $13.323 million, which was $344,000 ahead of budget and $5.261 million less than at the same time last year.
Mr Patrick said this was the lowest surplus for the first eight months of the year since August 2003.
Despite the negative financial results the university's balance sheet and lack of debt were a "comfort", he said.
"In my view we are in a really good space for these times of financial stress," he said.