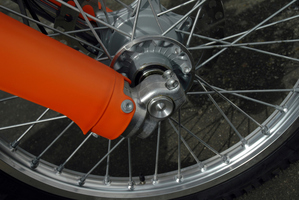 File photo / Thinkstock
A Masterton teen who stole a motorbike from a shed collided with its owner on a joy ride, partially severing the man's finger.
Jason Dean Hart, 17, pleaded guilty in Masterton District Court yesterday to breaking into the Solway garage with intent to commit a crime, unlawfully taking the motorbike and dangerous driving causing injury.
He was convicted and remanded on bail for sentence on December 3.
Police prosecutor Sergeant Jodie Lawrence said about 4.30pm on September 25, Hart went to the South Belt property where he kicked in the door of a shed, breaking the hinges.
Hart cut the chain securing the $1000 125cc motorbike belonging to Briggs Pilkington and rode it to Queen Elizabeth Park.
Mr Pilkington was walking on a pathway when he heard the motorbike coming from behind but he couldn't get out of the way and the motorbike hit him.
As a result Mr Pilkington suffered extensive injuries to his right hand, cuts to his legs, facial bruising and needed hospital treatment, Sergeant Lawrence said.
Police said Mr Pilkington's finger was partially severed.
Hart was later found by police and told them he had taken the motorbike to go joy riding.
Judge Stephen Harrop said the charges against Hart were serious, carrying maximum terms of imprisonment ranging from five to 10 years. The judge said Hart was a young man with no previous convictions. He was not prepared to sentence Hart until he had more information, including a victim impact report.
for more articles from this region, go to WAIRARAPA TIMES-AGE