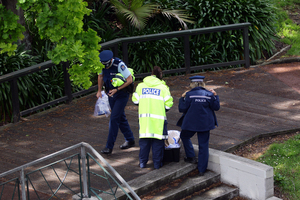 The crime scene at Myers Park in Auckland. Photo / Herald on Sunday / Doug Sherring
A man slashed in a knife attack in a central Auckland park has been left with an "extremely large scar'' on his face.
Police say the 22-year-old, who was sliced from his temple to the jaw in a random attack, has been released from hospital after surgery at the weekend.
A 21-year-old man who was stabbed in the chest in the incident at Myers Park on Friday night will spend at least a week in hospital, Detective Sergeant Scott Hunter said.
A pocket knife found in Aotea Square is believed to be the weapon used in the attack, Mr Hunter said.
The knife has been sent for forensic tests for confirmation it was used in the stabbing.
The man whose face was slashed is expected to be interviewed by police this week.
Four men, who were associated with the man stabbed in the chest, were arrested and charged with wounding with intent to cause grievous bodily harm.
Mr Hunter said detectives were still investigating how the 21-year-old was stabbed in the chest.
He remains in Auckland City Hospital and is yet to be interviewed by police.
Anyone with information should call Auckland CIB on 09 302 6400 or Crimestoppers on 0800 555 000.
- APNZ