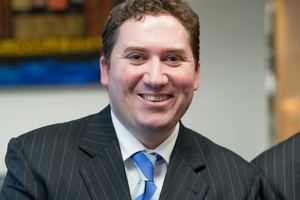 The Wellington police boat has rescued several kayakers who were tipped into the harbour by large swells this morning.
A police spokesperson said a call was received from a member of the public about 8.30am alerting them that the kayakers were in trouble.
She said the kayakers were about 200m out from the Overseas Passenger Terminal in Wellington Harbour.
The Wellington Police Maritime Unit were at the scene within five minutes and all of the kayakers were accounted for.
Former National MP Aaron Gilmore was among the group who paddle together every Tuesday at dawn.
"The wind gusts picked up, one of the guys in the group tipped out, so we self-rescued him and got him back in his boat, but he tipped out again," Mr Gilmore said.
"The winds were gusting well over 40 knots and two other paddlers tipped out, and one of the other people got caught in one of the other boats and we couldn't cut it free and he tipped out.
So we ended up calling marine rescue and getting the police boat to pick four people out of the water.
"I managed to drag one of our guys back to the beach ... it was all very frightening stuff."
Mr Gilmore said everyone was wearing lifejackets and is alright, although a couple of paddlers suffered minor hypothermia.
"Everyone is okay, but we were probably only a few minutes away from something more serious. It shows you the need to make show everyone has the right gear and has done the right training.
"Thank heavens for the Wellington police marine rescue boat. That's why it's here."