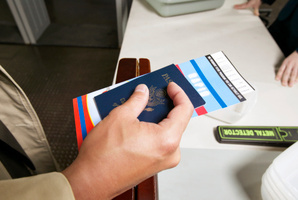 NZ's Foreign Affairs Ministry is kept busy by thousands of Kiwis who find themselves in trouble abroad. Photo / Thinkstock
A New Zealander is arrested overseas or detained at an airport every week, a third of them by the strict authorities in the United States.
Thousands more keen travellers require consular assistance in all corners of the globe, figures provided to the Herald show.
The Ministry of Foreign Affairs and Trade helped 43,500 people in the past year - 55 of whom had been arrested in one of 18 countries.
Every year for the past five years, arrests in the US have provided more work for the ministry than any other country, with 18 in the year to July 31, 20 the year before and a spike to 32 in 2008.
Japan had the second-biggest number of arrests the ministry assisted with, at seven.
Only five New Zealanders were arrested in Australia - the most popular holiday destination - despite having eight times more Kiwi visitors than the US and 52 times more than Japan at 987,080 last year.
There were also arrests in countries not commonly frequented by Kiwis including Iraq, Egypt, Kuwait, Poland and Ukraine.
The director of MFAT's consular division, Deborah Geels, said the numbers showed only the cases it helped with, so the total arrest tally might have been higher.
The figures might include cases where people were detained by immigration for a few hours because of undisclosed criminal convictions or because they had overstayed in the country, and more serious cases where people were arrested outside airports for drugs, fraud or assault.
A New Zealand man was arrested in the Philippines last week after he allegedly tried to smuggle marijuana in a cigarette packet on to a plane.
Salah Raad Abdulrazzak, 27, tried to board a flight from Ninoy Aquino International Airport's Terminal 3 to Caticlan, Aklan, also in the Philippines.
The penalty for the use or possession of 750g or more of marijuana is 20 to 40 years in prison, according to the embassy.
Fortis Travel managing director Blair Huston said he knew at least eight people who had been sent home from airports around the world because of visa issues or undisclosed criminal convictions.
People often did not realise they had to declare convictions.
"The repercussions of possession of a small amount of cannabis or a drink driving convictions just has huge impact on your ability to travel the world.
"I knew someone who, two years ago in the States, was handcuffed in front of the immigration people and marched off to a holding pen for 12 hours and sent back. That was because of a minor drug conviction."
There was also a growing number of people without insurance injuring themselves overseas and having to pay thousands in medical bills, he said.
More than two New Zealanders die every week overseas, with Australia having the biggest toll, the figures show.
The ministry provided assistance for 135 families with relatives in 47 countries, 25 across the Tasman.
Fifteen Kiwis died in Britain, seven in Thailand and six in Malaysia.
The deaths had a number of causes including old age, existing medical conditions and accidents, Ms Geels said.
The biggest problem Kiwis called for help with was lost travel documents, with 552 requiring assistance, about a quarter of those in the US.
Lost property and general advice were also high on the list at 292 and 283 cases respectively.
The ministry assisted in eight adoption cases, six in Thailand, one in Tajikistan and one in Indonesia, along with 35 custody cases.
The embassy in the Netherlands provided a staff member to watch over a Kiwi student sitting an exam that had been set by a New Zealand university.

Kiwis arrested overseas
18 United States
7 Japan
5 Australia, Fiji
2 Hong Kong, Indonesia, Iraq, Malaysia, Vanuatu, China
1 Egypt, Republic of Korea, Kuwait, the Philippines, Poland, Thailand, Ukraine, United Kingdom
55 TOTAL

Kiwi visitors*
987,080 to Australia
114,560 to the United States
102,620 to Fiji
91,740 to the UK
38,140 to Thailand
18,880 to Japan
*flying direct from NZ