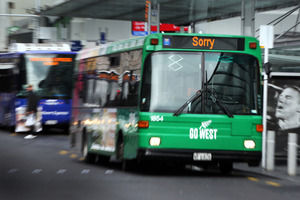 Auckland bus passengers may be in for free rides if the pay dispute at NZ Bus remains unresolved.
It is understood bus unions are considering a proposal by drivers - who have rejected the company's latest pay offer - to stay on the job but to refrain from collecting fares from passengers.
That is expected to be discussed at a meeting of delegates from the two unions today, as a possible alternative to all-out weekly strike days, such as previously threatened against Auckland's largest bus operator.
Although such a move may provoke retaliation in the form of a lockout by the company, drivers believe it would make it easier for them to claim moral high ground in the dispute, in which they have rejected two sets of union recommendations to accept pay offers.
Company officials have been unavailable to comment on the dispute since Friday, when a ballot closed in which 51 per cent of 798 drivers voted to reject the negotiated proposal.
Sixty per cent is support needed for acceptance.
The offer was for a 6.55 per cent pay rise to lift the hourly rate from $18.75c to $20 in three stages by November next year.
But the company has said the offer would make its drivers among the highest paid in the country.
Auckland Tramways Union president Gary Froggatt would not comment yesterday on the free bus rides proposal, but he said the company should take the latest vote seriously as it was conducted on a depot-by-depot basis to ensure maximum participation by drivers.
The company complained about the absence of almost 200 drivers from a previous vote at an all-up stopwork meeting.
Mr Froggatt said the latest vote showed drivers were still concerned about rosters and duties at the central city and North Shore depots requiring many to work for 5 and a half hours before taking breaks - the maximum allowed by law.