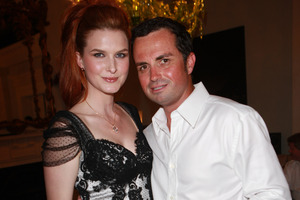 A property developer has pleaded not guilty to drunkenly crashing his $170,000 sports car.
Jonathan Paul King, chief executive of Nova Construction, appeared in the Auckland District Court on Tuesday charged with dangerous driving and having a blood-alcohol level more than twice the legal limit.
King, 37, from Freeman's Bay, allegedly crashed his Audi RS5 4.2 FSI Quattro, with former Herald on Sunday Spy editor Sophia Nash in the passenger seat, on July 22.
The crash happened on the Bullock Track and the car flew across Old Mill Rd.
King's lawyer, Alistair Haskett, told magistrates his client would enter a "firm" not guilty plea.
Court records show that King is alleged to have had a blood-alcohol reading of 174, when the legal limit is 80mg per 100ml of blood. He was also charged with driving contrary to his limited licence.
Afterwards Haskett said: "While I am confident that Mr King will be found not-guilty of the charges against him, regrettably I am not in a position to comment on the defence at this time."
Nash and King were an item at the time but she said yesterday she was no longer with King.
- Herald on Sunday