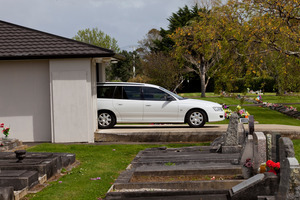 The Mangere crematorium. Photo / Neville Marriner
A mother and child who died after falling from the 26th floor of an apartment building have been farewelled.
Karla Ayala Labastida and her 3-month-old daughter Dania Preciado Ayala lay in a single coffin for a private ceremony in Auckland about 1pm yesterday.
The ceremony was attended by the woman's husband and Dania's father, Adolfo Preciado Quiroz.
"There was a service at the undertakers at Onehunga," said Father Bernard Dennehy of Glen Eden, who speaks Spanish and English.
"It was a small gathering of Latin American friends and supporters.
"There were also some police there, police who were dealing with the case, and two people from victim support who are constantly with the husband. They're with him day and night."
Dennehy said the family had only been in New Zealand since last month. It was the first time he had met the father, Adolfo, and it was good to see he was getting support.
Adolfo had thanked the dozen or so people present at the ceremony for their condolences.
The grieving husband and father had been working on a postgraduate seismic research project in Wairarapa for Auckland University when the pair fell from the Auckland Oaks Hotel on Wednesday night.
The Mexican Ambassador to New Zealand, Leonora Rueda, said the husband was in the dark as much as anyone about what had happened.
About half an hour before the deaths a couple saw a woman in the hotel lobby in a highly distressed state yelling into a cellphone with a baby wrapped in a blanket.
Dennehy said Adolfo would return to Mexico with Karla and Dania's ashes early this week for a family gathering there.
Adolfo intended to return to New Zealand to finish his university work.