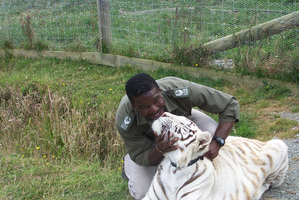 A coroner has ruled on the true identity of the cat handler mauled to death by a tiger at a Whangarei wildlife park in 2009.
The inquest into Dalu Mncube's death at the Zion Wildlife Gardens was delayed after police realised he had used several names and came to New Zealand on a false passport.
The inquest ended yesterday with Northland Coroner Brandt Shortland promising a quick finding on the identity question.
It came today, with the conclusion the keeper's real name was Dalubuhle Ncube, born in Zimbabwe in 1978.
Mr Shortland said Mr Ncube had manipulated a number of names to obtain a South African passport which he used to enter New Zealand.
His motivation was unclear, but Mr Shortland heard from Mr Ncube's fiancee, Sharon Arnott, who said two or three months before his death he revealed his real name "in the context of an emotional discussion''.
"Despite that revelation, he was unable to give reasons why he had not told her earlier,'' Mr Shortland said.
"This was an important demarcation in their relationship, and as Ms Arnott has said under oath, she felt that he was being honest and believed him.
``Despite her attempts to ask why he chose to make this revelation now, he would only answer that he couldn't go into it and was unable to tell her.''
Had Mr Mncube not died the Department of Immigration, would probably have had a prima facie case to charge him, Mr Shortland said.
- APNZ