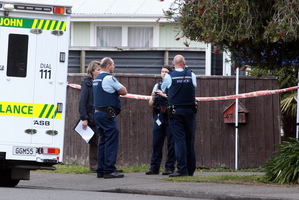 Police are not taking any further steps over a Hastings funeral home dispute in which family members bickered over where a man's body should lie.
Officers were called to Gentle Touch Funeral Services on Tuesday after an argument broke out between members of Ephrame Waihape's family about whether his body should be taken to Ruatahuna or Pakipaki.
The 40-year-old was found unconscious in a driveway in Flaxmere last weekend and could not be revived.
Bay of Plenty police spokeswoman Kris McGehan confirmed officers attended the dispute "as a precautionary measure''.
"It was internal family squabbles. They sorted it out,'' she said.
The disagreement did not turn physical, and no charges would be laid, said Ms McGehan.
A family member present claimed a cousin of Mr Waihape, Syd Maaka, attempted to use a Hawke's Bay Today company van to take the body to Ruatahuna, without the permission of other family members.
Mr Waihape's body was taken to Pakipaki, where he was to be buried today.
- APNZ