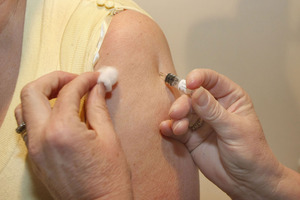 Health officials are crediting a mass meningococcal C vaccination campaign in Northland during 2011 with low rates of the disease this year.
Nine confirmed cases of meningococcal C and four of meningococcal B were recorded by the DHB from July to November last year and in 2010 three Northlanders died as a result of meningococcal C.
An emergency vaccination campaign in Northland last year saw 35,000 young people immunised free of charge.
Northland District Health Board medical officer of health Jonathan Jarman said so far this year there has only been one case of meningococcal in the region.
"That's absolutely wonderful," Dr Jarman said.
Last year's mass vaccination campaign appeared to have worked but he warned that meningococcal was still in the community and immunisation was the best defence.
The district health board is giving free meningococcal C vaccinations to children these school holidays. So far 32 people have been immunised at the clinic.
Meningococcal disease can cause meningitis (inflammation of the membranes around the brain) and blood poisoning (septicaemia), and can be quickly fatal. Meningococcal symptoms include a high fever, headache, vomiting, an infant's refusal of food, sleepiness, a stiff neck and a sensitivity to bright lights, joint and muscle pains, and a rash.
For more articles from this region, go to Northern Advocate