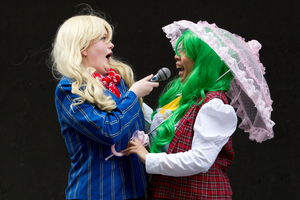 The Japanese art of kosupure, also known as cosplay, is seeing an increase in popularity here.
University of Auckland undergraduate Shelby Bannister, 18, said she would much prefer to dress up in a favorite superhero outfit than join her other university mates at parties.
Bevan Chuang, an Auckland Council ethnic panel member and former cosplayer, estimates there are about two thousand cosplayers in the country now.
Cosplay, a combination of costume and play, involves people dressing up to look like their favourite manga or superhero comic character.
Two festivals, Overload and Amargeddon, are now held annually in Auckland which are dedicated to cosplay and Japanese anime (video and computer animation).
Miss Bannister, who is studying psychology, said cosplay had played a key role in connecting her to friends outside her own community.
"It's given me something to have in common with lots of Japanese, Koreans, Chinese and others," she said. "When we're dressed up, we just go into a different level where ethnicities no longer exist, and we all just become the characters we're dressed up in."
Describing herself as a fanatic, she connects with other cosplayers mainly through the internet, and shares stories and pictures through cosplay forums.
She has spent thousands on costumes, and is saving for the outfit of her favourite superhero character, Wonder Woman.
University of Auckland's Asian Studies expert, Professor Manying Ip, says activities like cosplay may not directly "educate Kiwis on Asian culture", but help with social interaction.
"What you find is that activities like cosplay bring people together, and make friends out of people who otherwise have no reason to be friends," Professor Ip said.
"But also the fact that it has its origins in Asia means it would help non-Asian cosplayers view Asian culture in a positive light."