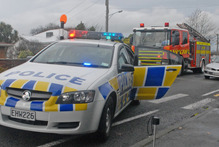 Police are appealing to the public to help identify an elderly woman who was killed when she was hit by a car on Auckland's North Shore today.
The woman was killed while walking along Totara Vale Road about 1.20pm.
Police described her as Caucasian, aged between 75 and 85 with grey/white hair.
She had a piece of light blue ribbon tied around her neck and had gold rimmed glasses.
She was wearing a blue jacket with white zip, dark blue woollen knitted jersey, black track pants and black shoes with no laces.
Anyone with information is asked to contact North Shore police.
Meanwhile, a 56-year-old motorcyclist has died after a collision with a car in North Taranaki.
Senior Sergeant Matt Prendergast of Waitara police said the crash happened about 3.10pm today at the intersection of Princess Street and Main North Road, Waitara.
The motorcyclist died at the scene.
The driver of the car was taken to Taranaki Base Hospital with minor injuries, Mr Prendergast said.
The road was closed while the scene was examined but is now open again.