Cook Islanders are legitimate New Zealand citizens, so why can't retirees draw their pensions there?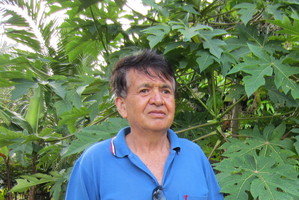 Bill Framhein winces slightly and suppresses a groan as he eases himself into the plastic patio chair outside his tidy bungalow.
The reason is plain: one of his lower legs is purple as a berry, angrily bloated by a deep vein thrombosis that doctors have told him will eventually cost him the limb.
He looks across his garden, which is flanked by tall coconut palms crowned with bulges of fruit.
A dozen chooks dart and peck for grubs in the afternoon shadows, and a presiding rooster crows with an extravagance comically out of proportion to his scrawny frame and sparse plumage.
"I like it here," he says. "I have lots of people I know - some of them are elderly now, and sick, and I like visiting them.
"And," he gestures expansively, "I have my own coconuts."
Framhein's evident pleasure is tinged with sadness. When we spoke in late August, he had been back in the Rarotongan village of Nikao, near the airport, for only a few weeks.
It's his home here - they call him Taki, a contraction of his real name Teariki Mataki - but each February he goes to spend half the year with his niece in a small Porirua flat.
The reason for this is crushingly simple: it's the only way that he can get the pension that common sense would suggest he deserves but the regulations say he may not have if he lives permanently at home.
It's a situation that seems reasonable on the face of it, but when you peel away the historical and bureaucratic layers, there's a strong whiff of injustice.
Cook Islands-born Framhein, now 70, lived and paid tax (he was never out of work) for 34 years in New Zealand. He was in the army in Malaya and Borneo. He served four tours of duty in Vietnam as a scout - "He's the guy who goes up the front, and finds explosives and mines and things like that," he says.
You might think he had done enough to earn a pension, but he does not meet two key requirements: to be living in New Zealand at the time of applying, and to have lived in New Zealand for at least five years since the age of 50 (he went to Perth in his late 40s). Thus he has to spend six months a year here to qualify for the payment.
The fact that Cook Islanders are New Zealand citizens - the self-governing country is defined as being part of the "realm" of New Zealand and its people carry New Zealand passports - doesn't help. The rules are the rules.
Framhein is remarkably free of bitterness about his situation.
"I'm not angry," he says, "just a bit sad. It's hurt me to realise that I am no longer treated like a New Zealander because I thought a Cook Islander was a New Zealander.
"When there was national service, I signed the form, accepting the fact that I owed that duty as a New Zealander. For them now to treat me as if I was a refugee ... well, that was a bit hard."
The head of Senior Services for the Ministry of Social Development, Warren Hudson, tells me that the regulations provide "a way of establishing a person's connection with New Zealand" before their retirement.
"Without the residency criteria, there would be nothing to prevent a person born in New Zealand but who has spent their life overseas, returning at 65, claiming NZ Superannuation and then taking that back overseas."
But that scarcely describes Framhein's circumstances. And he is far from alone.
Les Priest, who lives at Matavera, not far from the tourist resort of Muri Beach, has been lobbying for 19 years about the injustice. He is disappointed that Foreign Minister Murray McCully, who is on record as agreeing that rule is unfair, has withdrawn his support for the Cook Islanders since the Christchurch earthquakes changed the fiscal landscape.
Priest says there are about 80 people in the group he calls "the lost tribe" and there are others who would sign up were it not for akama - what Maori call whakama - the shame of standing out of the group or owning up to misfortune.
"They keep telling us what the rules are," Priest says, "We know what the rules are. What we are saying is: 'Change the rules'.