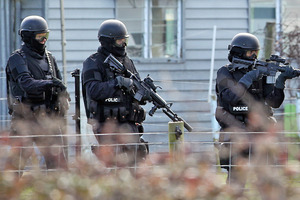 Police have arrested three people after a "cocktail of danger" was uncovered in containers and caravans in rural Waikato last week.
Explosives, firearms and thousands of dollars of equipment allegedly used to make methamphetamines were seized during simultaneous search warrants at Ngaruawahia and Blockhouse Bay properties on Friday afternoon, police said.
Armed Offenders Squad officers, the Clan Lab team, the NZ Defence Force bomb disposal squad, CIB and police officers from Waikato, Bay of Plenty and Auckland were involved in the operation.
Police said two Auckland men, 37-year-old David Griffiths and a 43-year-old, were found at the River Road, Ngaruawahia address and were arrested and charged with manufacturing methamphetamine.
A woman was arrested at the Blockhouse Bay Road property and charged with possession of a Class A drug and possession of Class C drugs for supply.
Police said Griffiths has been remanded in custody to reappear on October 30 and the 43-year-old has been bailed to his Auckland address.
He will appear in court again on the same date.
Detective Sergeant Nina Pedersen of Avondale CIB said the Clan Lab team worked throughout the weekend searching six shipping containers and three caravans on the rural Ngaruawahia scene address.
"Once the Clan Lab team had meticulously gone through the property and made it safe, the general scene examination got underway on Sunday afternoon and, among other things, staff located a rifle, subsonic ammunition, flares, grenades and explosives," Detective Sergeant Pedersen said.
"This has been an inter-district operation and I'm very proud of the way all officers have worked together at short notice to shut down what experienced Clan Lab staff described as a sophisticated commercial-scale laboratory set up to supply large amounts of illegal Class A drugs. Our investigation is on-going and further arrests are likely."