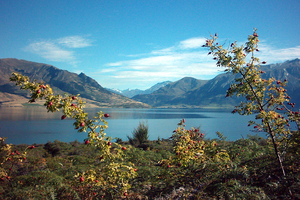 If you are going to be involved in a medical emergency, try to avoid it happening at Lake Hawea, as it would appear St John has no record of the town's existence, according to locals.
The organisation does, however, know how to find patients at Gladstone, just east of Lake Hawea township - an improbable requirement given Gladstone disappeared under water in 1956 when the lake was raised after the Hawea dam was built.
According to modern maps, Gladstone is the tiny John's Creek settlement on the eastern shoreline of the lake.
But Lake Hawea resident Barbara Chinn said the actual Gladstone was surveyed in the late 19th century at a site roughly halfway between John's Creek and the Lake Hawea township. Sections were sold there but it was never developed, and it now sits at least 10m underwater.
Maps which pre-date the Hawea dam confirm this location.
Mrs Chinn contacted the Otago Daily Times concerned about the "obvious confusion" surrounding the place names and locations, which came to light after she phoned for an ambulance for a friend who was injured in a log-splitter accident at her house recently.
She was put through to a communications centre and provided her address in Muir Rd, Lake Hawea.
"The person asked whether this was in a suburb of Lake Hawea. I explained that Lake Hawea is a township, too small to have separate suburbs, and asked whether he knew where Lake Hawea is."
The operator said he did, but again asked for the name of a suburb. Mrs Chinn suggested he might have Wanaka on his list of places, and told him the nearest settlements were John's Creek and Hawea Flat.
"He then asked whether I was referring to Gladstone, which came up on his information screen. He evidently had no record of the existence of the Lake Hawea township, and I suggested that it might be listed simply as Hawea, and that it is to be found on the southern shore of the lake."
With still no success, Mrs Chinn gave detailed directions to her house, but by that stage the patient had regained consciousness and was able to be taken by car to Wanaka's medical centre, so the ambulance request was cancelled.
Mrs Chinn said such "serious inaccuracies" in the ambulance service map systems needed to be rectified before a tragic situation occurred.
St John Southern Lakes district operations manager Pauline Buchanan said the 111 call was taken by an operator in the North Island. However, "any 111 call will be dealt with in exactly the same way, regardless of location".
If someone called 111 from a landline, as Mrs Chinn had done, St John's systems could provide their location 95 per cent of the time.
St John had investigated the incident and found Gladstone was a "legitimate location even though part of it is now submerged under water".
Ms Buchanan said St John received updated maps from external, accredited sources every three months, which were its main source of information.
"When a person voluntarily offers pertinent information on specific locations, we will manually update our maps."
Consequently, St John maps had now been updated to show both Lake Hawea and Gladstone.