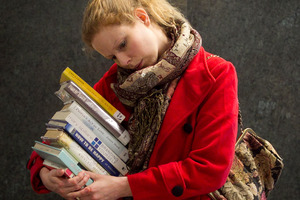 Lisa Sorensen makes the most of the first day of the Central City Library's twice-yearly book sale. Photo / Natalie Slade
The chance to choose from a huge selection of books and buy them for $1 or $2 drew hundreds of Aucklanders to the Central City Library yesterday.
Manager Kate Roberts said several hundred people attended the first day of the bi-annual sale of redundant books, which continues until Sunday.
"And there's plenty more new stuff to add each day."
Each year, Auckland libraries buy around 500,000 items and keep collections fresh by putting aside worn, damaged or out-of-date material for the sales.
Buying 85 books in a day was a dream come true for Waiheke High School student Kate Ashworth yesterday as she packed her purchases into shopping bags.
The 14-year-old's enthusiasm for Japanese graphic novels lured her from her bed on the first day of the school holidays to catch the 8am ferry from the island and be among the first bargain hunters.
At $1, she said the books were in good condition and a fraction of the retail price.
"I love Japanese graphic novels. They are so good and there are thousands of them."
Kate has studied the cartoon-style works of fiction since she was 8.
With a friend, Annalisa Pratt, she won the library's Fuse Teen Competition to create a spin-off graphic novel.
Science-nonfiction enthusiast James Watson was impressed with the diverse offering. "It's a great way to buy books you don't see in a bookshop."
Jennifer Smith, of Avondale, said she did not care if the books were old.
"It's what's in the pages that appeals."