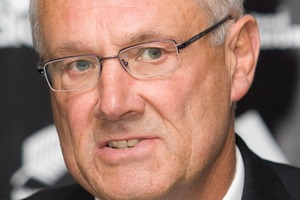 New Zealand Rugby Union chairman Mike Eagle and board director Gerard van Tilborg have been mugged in Argentina, just metres from the All Blacks hotel in Buenos Aires, TV3 has reported.
Van Tilborg had a Rolex watch stolen but neither man was hurt during a brief scuffle with two men, who fled on motorbikes.
The incident happened just minutes before the two men were due to check out of the hotel, TV3 said.
The mugging comes after TVNZ reporter Steve Marshall had his camera stolen in the city several days ago and four members of an All Blacks' supporters tour group had their pockets picked by thieves using diversion scams. In the Marshall incident, his camera was stolen by a pillion passenger on a motorbike.
Eagle and Van Tilborg were in the city to attend the All Blacks' 54-15 victory over Argentina yesterday (Sun NZT).
The All Blacks had a big security detail during their time in Buenos Aires, including heavily armed policemen on motorbikes escorting the team bus. The team was due to leave for Johannesburg today for Sunday morning's final Rugby Championship match against South Africa.
The All Blacks have already won the trophy.
- APNZ