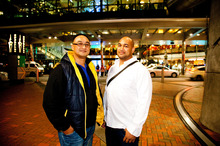 Punters panicked after being stuck in a hot elevator at SkyCity for nearly an hour last night.
Tuli Ah Voa and his cousin were among 18 people stuck in a lift in the casino's lobby. Ah Voa, 34, said the ordeal left him feeling "ripped off".
Ah Voa said communication through the elevator intercom left the trapped customers confused, and unsure how long they'd be stuck for.
"They wouldn't give us a direct answer."
The lift was extremely hot, Ah Voa's cousin Paul Chankay said, and after 40 minutes people started panicking. Ah Voa said an older woman felt claustrophobic. Ah Voa was concerned the panic would spread, so he and a few others started cracking jokes to defuse the tension.
"It was just good to have humour in there, just to keep everything normal and calm."
Firefighters managed to prise open the lift doors just after 8pm. Some of those who were freed embraced family members who had been waiting in the lobby during the drama.
Security guards escorted them away from onlookers.
The freed customers were given bottles of water and free parking for the night.
SkyCity did not return calls. A lift in the main tower at SkyCity malfunctioned last August, leaving people stuck for 45 minutes.
By John Weekes

Email

John