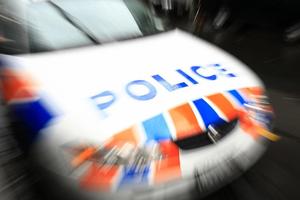 File photo / NZ Herald
Police are hunting an offender who rammed a stolen vehicle into a patrol car in a pursuit late last night in Wellington.
Inspector Terry Van Dillen said a Toyota Hilux was stolen from an property in Highbury last night.
A patrolling police officer pursued the vehicle after seeing it drive past on a motorway at about 11:30pm.
He chased it to the Newlands off-ramp, where the fleeing driver stopped and reserved the Hilux into his patrol car, police said.
Inspector Terry Van Dillen said the officer, a frontline sergeant, was lucky to escape injury in the incident.
However, his vehicle received significant damage, Mr Van Dillen said.
Police later found the stolen vehicle abandoned in Newlands but are yet to identify and find the fleeing driver.
To give information call police on (04) 381 2000 or Crimestoppers on 0800 555 111.
nzherald.co.nz