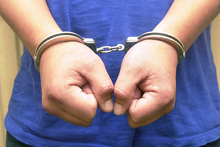 Three men have been charged following the attempted murder of a man in Tauranga.
A 43-year-old suffered shotgun pellet injuries to his head when shots were fired into his Meander Dr, Welcome Bay, home about 9pm on July 9.
Two men have been charged, and a warrant for the arrest of a third man has been issued.
The trio faces a variety of charges including two counts of attempted murder, aggravated burglary and wounding to cause grievous bodily harm, police said.
Two of the charged men, both 35-year-olds from Hamilton, are also charged with burglary.
The third man, 44, of Tauranga, is being sought on a separate charge of attempting to pervert the course of justice and possession of LSD.
One of the Hamilton men appeared in the Tauranga District Court this morning and the other is to appear on October 3.
Details of the victim have been suppressed.
Detective Senior Sergeant Greg Turner said investigations into the attempted murder revealed there had been a home invasion at the same house in May that had not been reported.
"We also discovered that there had been an unreported shooting in Hamilton on 31 May that was relevant to our investigation," Mr Turner said.
The investigation is ongoing and anyone with information is urged to contact Tauranga Police on 07 577 4300 or Crimestoppers on 0800 555 111.
- APNZ