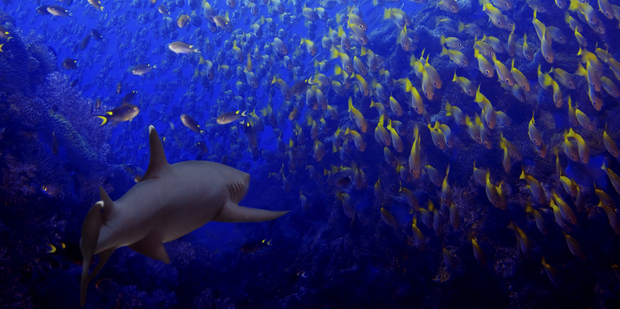 The oceanic whitetip shark will be elevated in status to the same level of protection as the great white shark.
Conservation Minister Kate Wilkinson announced today the oceanic whitetip sharks, found mostly near the Kermadec Islands and off the northeast coast of the North Island south to Mahia Peninsula, were shown to be facing extinction.
Next year the whitetip sharks will be fully protected under the Wildlife Act 1953, giving them the same protected status as great white sharks and basking sharks in New Zealand fisheries waters.
The changes will make it illegal to deliberately take whitetip sharks in New Zealand fisheries waters.
It will be compulsory to report accidental captures of the sharks during fishing operations, and fines as high as $10,000 will be issued for not reporting accidental captures.
A fine of up to $250,000 or six months in prison could be imposed if a whitetip shark is deliberately taken from New Zealand fisheries waters.
The International Union for the Conservation of Nature has classified the whitetip shark as vulnerable.
The whitetip shark is a highly migratory species, and is commonly caught by fishers targeting tropical tuna.
"Shark species like whitetips are now being recognised and protected as an important part of our marine ecosystems," Ms Wilkinson said.
"New Zealand and the international community are taking steps to protect the future of these magnificent animals."
The Ministry for Primary Industries (MPI) said it would also use its powers under the Fisheries Act 1996 to help protect the oceanic whitetip shark.
In March this year the Western and Central Pacific Fisheries Commission adopted a measure requiring member nations, including New Zealand, to prohibit landings or sale of oceanic whitetip shark. This follows similar bans by other international fisheries organisations.
These measures are aimed at ensuring the oceanic whitetip shark can recover to a healthy population level.
MPI is working with the Department of Conservation (Doc), which is applying powers under the Wildlife Act 1953.
The two agencies ran a joint public consultation on the measures.
MPI's measures relate to New Zealand-flagged vessels fishing on the high seas, while Doc's relate to captures in New Zealand waters.
- APNZ