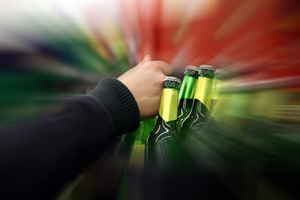 Photo / Thinkstock
Hastings Countdown has been banned from selling alcohol for 10 days after a minor bought liquor there.
The ban followed a purchase operation in June, which revealed the store had illegally sold alcohol to a person under 18 years of age. It was the third time it had been caught selling alcohol to minors.
The Liquor Licensing Authority suspended the store's off-license from 7am on Monday, November 5, to 7am, Friday, November 15.
Hastings District Council community safety manager Philip Evans said it was disappointing underage customers were able to buy alcohol: "[The] council will continue these operations and will seek the suspension and cancellation of licenses where appropriate.
"The suspension of the liquor licence would impose a significant penalty on the supermarket.
"This is the third time that the supermarket has failed a controlled purchase operation in the past five years, but, the authority took into account that the previous two incidents were four years ago."
Countdown supermarkets national operations manager Paul Bradsworth admitted fault and said the matter was being taken seriously.
"We deeply regret that the systems we have in place to prevent the sale of liquor to minors were not adhered to on this occasion, and we accept the decision of the Liquor Licensing Authority.
"In this instance, disciplinary action has been taken and we will be ensuring our staff are fully retrained in the responsible sale of liquor. During the time of the suspension, liquor will be inaccessible to shoppers and our checkouts will be unable to process liquor product sales."
for more articles from this region, go to HAWKES BAY TODAY