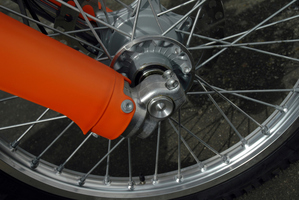 A man lost a finger and a tooth while tackling a teenager who he believed had stolen his motorcycle, police say.
The injured man, 22, is now in Wairarapa Hospital undergoing surgery.
The missing middle finger has not been recovered.
Police said the Masterton man noticed his 125cc Lifan Pit Bike missing from his South Belt address yesterday afternoon.
He went to Queen Elizabeth Park about 4.30pm, where he spotted a young man he knew riding it near the BMX track, Masterton police Senior Sergeant Carolyn Watson said.
"He went to tackle him and got his finger caught in the spoke - he lost the finger and a tooth in the process amongst other injuries," she said.
The alleged thief then crashed the dirt bike and fled the scene, and was tracked down a short time later by police dogs at Henley Lake.
The owner of the bike is currently undergoing surgery at Wairarapa Hospital.
Masterton man Jason Dean Hart, 17, appeared in Masterton District Court today charged with unlawfully taking a motor vehicle. Ms Watson said other charges were likely.
Hart was remanded until October 8 without plea, released on bail with a 24-hour curfew which he can only break to attend court or prearranged appointments with his solicitor.
For more articles from this region, go to Wairarapa Times-Age