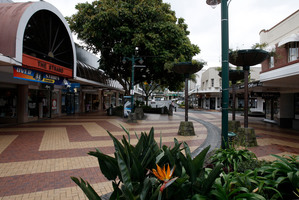 A young man is lucky to be alive after a vicious knife attack in central Whangarei left him with his throat slashed from one side to the other.
Police are describing the horrific attack as a random act of violence.
The 18-year-old victim was knifed in Cameron St Mall early on Saturday when he and a friend were allegedly set upon by two other men they did not know.
The knife attack exploded out of a short verbal exchange between the two groups, Detective Sergeant Shane Pilmer said.
The injured teen was rushed to Whangarei Hospital where he had extensive emergency surgery to repair his throat and staple together the gash across his neck.
He is recovering at home and is expected to make a full recovery. The two attackers fled on foot after the incident about 2.10am. One was caught by police in Rathbone St soon afterwards.
A 17-year-old youth will appear in the Whangarei court today.
Police do not know the identity of the second man and are appealing to witnesses or anyone who might know something about the incident to come forward.
Mr Pilmer said there were a few people in the mall and surrounding area at the time who saw the fight.
The injured teen, who had been enjoying a night out with his friends, had been "in the wrong place at the wrong time", Mr Pilmer said.
Despite an increase in people carrying knives, police had not noticed an accompanying increase in them being used.
"He [the attacker] had this knife concealed on him and he was quite prepared to pull it out and use it. That's very worrying," Mr Pilmer said.
"The person he attacked is extremely lucky to be alive."
For more articles from this region, go to Northern Advocate