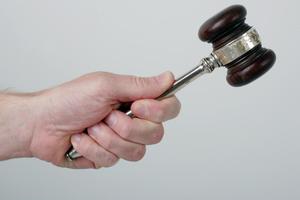 A woman who was beaten and raped by her ex-Olympian former husband hopes his 14-year prison sentence will help him deal with his issues.
The former Olympian, who has name suppression to protect the identity of the victims, was sentenced at the High Court at Auckland for offences relating to the woman and another former partner.
He was found guilty of three charges of sexual violation by rape, one of sexual violation by unlawful connection, one of injuring with intent and one of male assaults female.
The man's ex-wife said the sentence brought some closure to a chapter of her life she would rather forget.
She hoped he would use the time to deal with his issues and believed he could change.
"He's got a very good side to him and if he can show that side up a bit more and do a bit to try to deal with his anger issues I think it will be for his better. I think the most important thing is that he learns to take responsibility for what he did."
The pair had not spoken since the end of their relationship in 2008 which, like that with his previous partner, was characterised by controlling behaviour, forced sexual acts and violence, Crown prosecutor Fionnghuala Cuncannon told the court.
The man also assaulted a girlfriend in 1998 and 1999.
He had two previous assault convictions and a pattern of violent offending in relationships, said Cuncannon.
A written reference from an academic said the defendant "makes bad decisions", particularly in his choice of partner.
Justice Mary Peters rejected this, saying it was blaming victims, though defence lawyer Hugh Leabourn said that was not the intent.
The man must serve at least six years and six months.
Meanwhile, blogger Cameron Slater said this week he had no qualms about breaching suppression orders relating to the case. "If they want to take it further, oh well, they'll take it further," he said.
In 2010 he was found guilty of breaching name suppression orders and identifying a victim in a sex case. He was fined $6750.
- APNZ