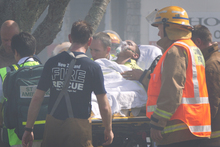 A firefighter overcome by smoke at a factory blaze yesterday was recovering in Auckland City Hospital last night. He was in the team that battled a big fire at a two-storey building occupied by curtainmakers Lahood in Mt Eden Rd.
More than 90 firefighters spent two hours tackling the blaze, which started at about 9.40am.
Surrounding businesses were evacuated but no other injuries were reported.
Last night fire investigator Mike McEnaney said it appeared the blaze might have started in an area near the centre of the building on the top floor. The storeroom or workroom was unoccupied at the time, he said.
"Initially we're looking at the possibility of a fire starting in the ceiling area ... We're considering at this stage the possibility of an electrical issue to start with."
Mr McEnaney and other officers would return to the scene this morning to continue their investigations, and would talk to more staff who had been in the building at the time.
There would be a separate investigation into the injuries sustained by the firefighter admitted to hospital.
Neighbouring business owner Martin Howard said the fire quickly spread through the whole building and it became so hot that paint on the outside blistered and caught fire.
He had to evacuate his shop, Mt Eden Coffee, after toxic smoke from the building affected his employees.
"The whole building just caught fire and I think there's been a floor collapse inside. The smoke was very, very bad ...
"I didn't completely understand what was going to happen. Within four to five minutes it was just huge."
Mr Howard said he had spoken to Peter Lahood, who owned the building. "He said he was insured, but he also said things like 'jeez, I've lost everything'."
By Nicholas Jones

Email

Nicholas, APNZ