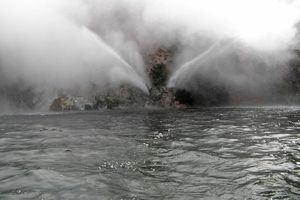 High water levels are thought to be responsible for a new geyser on Lake Rotomahana.
Waimangu Volcanic Valley and Rotomahana Boat Cruises chief executive Harvey James photographed the geyser, which he said had been active for about a week.
It goes off for about 45 seconds, sprays about 30m sideways and is dependent on lake water height.
Mr James said the new find was "pretty exciting".
Because the geyser seemed to be dependent on the lake levels, he couldn't guarantee when people would be able to see it.
For more articles from this region, go to Rotorua Daily Post