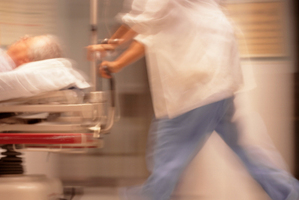 Don Knight has no idea how many life-threatening infections his body struggled through during 12 months in hospital - he was in no state to count. "I was just hallucinating on morphine most of the time."
The 79-year-old's wife, Beth, has no record either but said it seemed like a new one every week.
The couple, who live near Kaitaia, harbour no bitterness about what Mr Knight suffered at the Counties Manukau DHB.
Mrs Knight said: "It was horrible and we could have done without it, but I can't speak highly enough of the staff. They were marvellous."
Mr Knight's hospital stays, the longest one nine months, were spread from 2008 to 2010. He had a bowel disease which led to the removal of most of his large intestine. "They perforated his small intestine ... which they fixed. Then he ended up with eight operations in 10 days," said Mrs Knight.
His central line was moved every time he suffered an infection. "One arm, then the right arm, left side of the neck then the right side, then back to the arm," said Mrs Knight. "Every time it got an infection they would shift it."
The infections caused sudden fevers, and his kidneys and other organs began to fail.
The health board's head of general surgery, Andrew Connolly, said that although Mr Knight had central line-associated bacteraemia (clab) blood infections at times, the main reason for his long stays in hospital was the series of operations to control severe infections in his abdomen. Mr Connolly said before a project to eradicate clab began in 2008, the infections were common. Now, they are rare.
The series
Five years of hospital death rates have been made public for the first time - in the Herald. We compare health boards, investigate where lives are being lost and the battle to save them.
This week
Monday - District health boards compared, is death rate linked to healthcare quality, and how a simple checklist helps surgeons to avoid mistakes.
Tuesday - Waitemata DHB boosts heart-care capacity. A bereaved father questions medical justice.
Wednesday - Waikato DHB strives to understand its high death rate, medication safety, and a doctor's apology.
Yesterday - Palliative care helps Auckland DHB's good performance. A widow fights for changes.
Today - Obesity skews the statistics in South Auckland. Lives saved by reduction of blood infections.