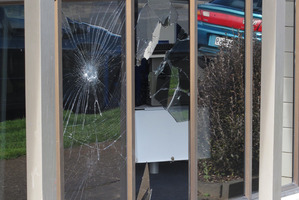 A disgruntled Work and Income client allegedly smashed two windows at the department's Kaikohe office with a hammer.
The incident occurred at the Community Link offices on Memorial Ave about 8.30am yesterday after a man in a motorised wheelchair was refused a food grant.
The man, 58, was arrested and charged with intentional damage. He is due in Kaikohe District Court on September 28.
Northland Commissioner for Social Development Ski Wisnesky said he took the incident seriously because someone could have been injured or even killed.
"No matter what a client's issue is with Work and Income policy, violence and threats are not acceptable and won't be tolerated. We have a duty to keep our staff safe," Mr Wisnesky said.
Staff had gone out of their way to help the man who caused the damage, but it was likely he would now be trespassed from the Kaikohe office.
The Advocate understands the accused man had already been given the three food grants he was allowed before having to prepare a budget.
It is understood he refused to do any budgeting work when he demanded a fourth grant.