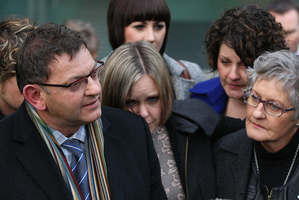 Sometimes it is as simple as a fence his boy built or a water trough he helped install that reminds Bryan Guy of his slain son Scott.
"Every time I go out to the farm I think of that day that I drove out there and found that he was killed.
"Sometimes ... it's those little things that remind you and tear at the heart strings more than anything."
Mr Guy and his wife, Jo, say they don't torment themselves with the unanswered questions about their son's death on his Feilding property two years ago.
Speaking publicly today, Mr Guy said he didn't dwell on whether to believe their former son-in-law Ewen Macdonald, who was acquitted of the murder at a High Court trial in July.
Macdonald was last week sentenced to five years in prison for six unrelated charges, including burning down a home on Mr Guy's property and vandalising another property Scott and his wife Kylee were having built.
"Obviously there's a lot of trust that's been lost with [Macdonald] with him admitting to those charges," Mr Guy told TVNZ.
"[There's] a lot of trust lost and there is pain and hurt from that. But again we don't want to focus on that. We've got to get past that.
"If we dwell on that, well we're just going to be bitter and twisted old people."
Mrs Guy, who carries a photo of her son around her neck, said she often felt the most grief in the build up to anniversaries.
"Sometimes it's just like a wave washes over you and you're dragged into the despair of it and then it passes," she told TVNZ.
"It passes a little bit easier now rather than before. It does feel like there's something missing, there's that part of your heart."
Mr Guy said his grandchildren - Scott's children and also the children of Macdonald and Mr Guy's daughter Anna - were "pretty good".
He told Radio New Zealand he was focused on trying to "build good memories with them" but he always answered any questions they had.
Mr and Mrs Guy thanked the "hundreds" of strangers who had sent letters, cards and emails with well-wishes.
"It's been overwhelming really," Mr Guy told Radio New Zealand.
"That's what gives you strength and courage, knowing other people care.
"There are a lot of questions that need answers still, as to who killed Scott.
"And that's perhaps going to be with us for a long time.
"But we don't focus on that now. [We're] looking forward to building a future for ourselves and our children and our grandchildren ... and be thankful for what we do have."