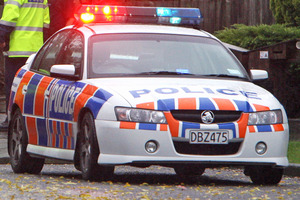 An 18-year-old man charged over a deadly hit-and-run on Saturday night has been granted bail.
Harry Silcock, a welder, made a brief appearance at Christchurch District Court this morning charged with being the driver of a vehicle involved in a fatal accident and failing to render assistance.
A man in his early 20s died and three other people were injured when they were hit by a car in Shands Road, Hornby, about 10.20pm on Saturday.
Silcock, who lives with his mother in Burnham, outside Christchurch, was allegedly the driver of a red Toyota involved in the tragedy, which police said could have been the result of racing or an overtaking move.
Silcock's lawyer James Rapley asked the court for his client be remanded without plea on bail until his next court appearance on October 1.
He said Silcock had handed himself in to police station voluntarily last night, accompanied by his mother and aunt.
They were in court today with other friends and family today to support Silcock, who was wearing a black hoodie and kept his head bowed throughout the short hearing.
Further charges were likely, Mr Rapley said.
Police did not oppose bail.
Judge Michael Crosbie granted bail with the conditions that he observe a night-time curfew, did not drive a car and did not drink alcohol.
Outside court, Mr Rapley said his client's "very normal'' family was devastated.
"Harry is a young man who is coming to terms with a tragedy,'' he said.
"Our thoughts go out to the family of the deceased.''
Silcock's family members refused to comment.
The occupants of a Suzuki Swift, which might have been one of the cars involved, also came forward earlier yesterday.
"We still have to evaluate all the evidence we've obtained in relation to both drivers,'' Detective Senior Sergeant Greg Murton said earlier.
"It may have been an overtaking manoeuvre or they may have been racing. We're not too sure at this stage.''
Witnesses said two vehicles were travelling in the same direction when one struck the pedestrians on the side of the road.
Neither car stopped at the scene.
Shands Rd resident Margaret Harrington said that from about 10.20pm on Saturday she heard "boy racers'' travelling at speed past her gate.
"It sounded like hundreds of them. You could tell that some of them were passing each other,'' she said.
In another pedestrian hit-and-run, a man in his 20s suffered multiple serious injuries when he was hit by a car outside Burger King in Moorhouse Ave in Christchurch just before 3am Sunday morning.
A car with two male occupants struck the man then sped off.
Restaurant staff reported that a physical altercation had broken out between a man on foot and the passenger of a car in the drive-through earlier.
- APNZ