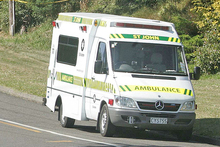 Two 11-year-old boys raced out of the bush in the Urewera Ranges to raise the alarm yesterday after a family member they were hunting with collapsed and died of natural causes.
The body of the 52-year-old was removed from the bush today, near Ruatahuna.
Detective Sergeant John Wilson told APNZ the man collapsed yesterday afternoon.
He and the boys were part of the same family, but the exact relationship was not known.
Searchers found him about 1am today, but the "atrocious" weather meant they were unable to move him from the site, Mr Wilson said.
"There was nothing we were able to do during the night so we looked after him overnight and then we mustered more staff this morning to get him out."
His body was removed today when a 4WD and a couple of quad bikes were able to get to the area.
Mr Wilson said there was nothing suspicious about the man's death and it appeared he died from natural causes.
- APNZ
By Rebecca Quilliam

Email

Rebecca