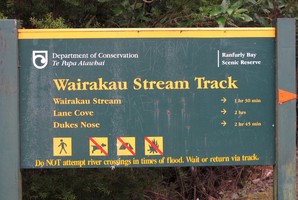 Murder-accused Wayne Bracken allegedly told a serving prisoner there was nothing to link him to the crime because he had destroyed his clothing, a court has heard.
Ngawha Prison inmate Noel Rogers also said fellow prisoner Bracken told him there would be no DNA to connect him to the deceased, Jack Davis.
The evidence came yesterday in the High Court trial of Bracken and Neville Dangen, who are charged with kidnapping and murdering the 30-year-old father.
The Crown says Mr Davis was killed with a thistle grubber. His body was found near the remote Wairakau bush track, on the northern side of the Whangaroa Harbour, on February 25, 2011.
Rogers said he had spoken with Bracken in March last year through a grilled gate as he waited in a "sterile zone" before getting medical attention.
His opening line to Bracken was he hoped he had a good lawyer.
To which, he said, Bracken responded that the mafia were paying for his lawyer and there would be no evidence to link him to the body as he had burned all his clothing.
Lawyer Gary Gotlieb, appearing for Bracken, said Rogers was motivated to fabricate a lie because he wanted to get bail and to help his friend and relative Dangen.
Rogers was in jail and was due to appear in court to apply for bail when he had the conversation with Bracken. Mr Gotlieb said Rogers spoke with police about Bracken's alleged admissions and said he would make a statement if he was granted bail.
Rogers denied the proposition, saying: "Making the statement was my duty to my tupuna [ancestors]."
He was granted bail and walked to the police station to make a statement the same day. Rogers said he would have made the statement to police regardless of whether or not he was bailed.
Mr Gotlieb said Rogers had a colourful imagination and previously while in prison had had a dream, which he had told police about that in turn sparked an investigation. Rogers' "fertile mind" was not always correct, Mr Gotlieb said.
To which Rogers responded: "I could say that about some of the greatest minds in the world."
Rogers said he helped Dangen get into a shearing gang as a young man and they had worked together.
The case continues.
For more articles from this region, go to Northern Advocate