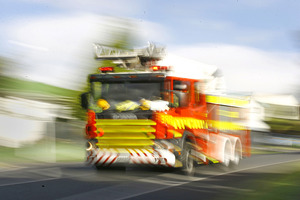 A three-year-old girl fighting for her life with burns to half her body is stable after surgery.
It's believed she set herself on fire while playing with matches or a lighter at home in Martinborough on Monday afternoon.
She is in a critical condition in the burns unit at Middlemore Hospital in Auckland.
Hospital spokeswoman Lauren Young said the girl had surgery today and was in a stable condition.
She said the girl's family was "absolutely traumatised".
Featherston fire station officer Colin McKenna and his crew, who transferred the girl from an ambulance to a Life Flight helicopter, said the girl had been conscious and sat up to look at the helicopter as they transferred her.
Wellington Free Ambulance spokesman David Baker said its team was first on the scene but would not give details of what happened.
"It was a very serious [medical] incident for a child of that age."
- APNZ