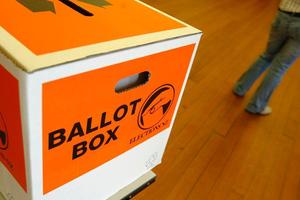 The Government will cap anonymous donations local election candidates at $1500.
Local Government Minister David Carter announced the proposed changes to the donation provisions of the Local Electoral Act today.
Mr Carter said the amendments reflected growing public concern about transparency and accountability in candidate donations, in particular anonymous donations.
The change will also amend the reporting and recording obligations for anonymous donations and introduce penalties for non-compliance.
"They will bring the Act more into line with the Electoral Act which governs the conduct of parliamentary elections and, in doing so, will help build trust in the local electoral system," he said.
Mr Carter said the amendments would be included in the Local Electoral Amendment Bill before Parliament.
That bill increases flexibility for city and district councils to set ward boundaries in a way that better reflects communities and geographic features. The proposals will further strengthen the integrity and efficiency of the local electoral system.
Act leader John Banks, who accepted large donations from Megaupload millionaire Kim Dotcom and SkyCity in his 2010 Auckland mayoralty campaign, welcomed the changes, blaming the previous Labour government for the current legislation.
"The Labour Party's Local Electoral Act 2001 has been ridiculed by lawyers up and down the country as unclear, unfair and unworkable. It needs to be fixed. These changes are well overdue."
- APNZ