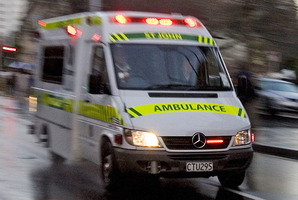 File photo / NZ Herald
An injured vegetable contractor had to smash his way out of his van after it flipped and landed upside down in a water race.
The 29-year-old escaped with his life but walked away with chest and leg injuries following Monday's crash, at Southbridge, west of Christchurch.
Police said the Christchurch man was on his way to work about 8.30am when he lost control of his Toyota Granvia on the shingle on North Rakaia Rd.
The vehicle flipped over a bank and landed upside down in the water race.
Southbridge fire brigade Chief Fire Officer Donald McMillan said when six fire fighters arrived, they found the flipped vehicle but the driver was nowhere to be seen.
Emergency services were alerted to the accident by neighbouring property owners.
"They found the car upside down in the creek," which contained about a foot of water.
"The guy had to smash the back window to get out [of his vehicle]."
Mr McMillan said the man had walked about 2km and was found sitting on the side of the road.
"He'd taken off, he was probably in a bit of a dazed state."
Firefighters gave first aid until the ambulance arrived and the man was taken to hospital with leg and chest injuries.