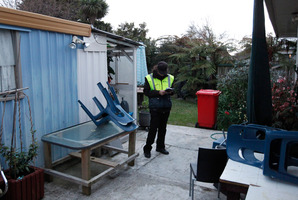 The mother of a newborn girl whose body was dumped in a Hutt Valley backyard is in hospital being treated for complications from the birth.
Police had feared for the woman's wellbeing after the infant's body was found wrapped in a towel at a Taita Drive property in Lower Hutt yesterday morning.
Inspector Shane Cotter said the woman in her early 20s was identified as the baby's mother after a search of the area today.
The woman had not sought any medical attention, he said.
"However, she has since been hospitalised this afternoon and is being treated for complications as a result of the birth.''
Police were continuing to investigate the circumstances of the baby's birth.
A post-mortem examination tomorrow would determine whether the infant was stillborn or not.
Mr Cotter said the baby appeared to be no more than a day old and still had part of her umbilical cord attached.
Police had been concerned for the mother because they had not found the placenta, raising fears the mother might require urgent medical attention.
The woman who found the body and her partner, both in their 60s, were surprised and distressed by the discovery, Mr Cotter said.
"I spoke to the man at the address and he said if it was alive they could have just left it on our front door step, rung the doorbell and run away and we would have looked after it. They didn't need the distress for what they found in their backyard.''
The pair were dealing with it "as best as they can'' and wanted to recognise what had happened in some way.
"Plant a tree there or something along those lines to acknowledge this wee baby's life.''
Taita Drive resident Maria Tagoai said yesterday her neighbour had been hanging out washing in the back garden when she made the discovery.
"She went outside to hang her washing and she saw a dead baby, a dead body of a newborn baby at her garden, and she collapsed.''
Mr Cotter worked on a similar case about five years ago in which a woman hid her pregnancy then after a few days put the baby's body into a cardboard box in her backyard at a boarding house.
She pleaded guilty to infanticide.
- nzherald.co.nz, APNZ