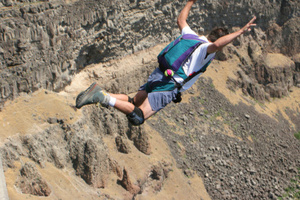 A friend of a 20-year-old New Zealander who died in a base jumping accident in Italy says he "left this world doing what he loved the most".
The man was said to have been travelling at a speed of about 200 kilometres an hour when he hit a rock face in the Trentino Alto Adige region of northern Italy, La Gazzetta Del Mezzogiorno reported.
The man, who had been base jumping in the region for about a month, had leapt from a peak called Eagle's Beak. About three-quarters of the way the man had unsuccessfully attempted to open his parachute and slammed into the rock face.
The accident was witnessed by fellow base jumpers who immediately contacted authorities.
La Gazzetta Del Mezzogiorno said forest guards determined he was dead and organised for a helicopter to airlift the body away.
Eagle's Beak is about 1,100 metres from the ground, and is located between Trento and Riva del Garda.
Fellow base jumper Marco Regina paid tribute to his friend on Facebook, saying he "left this world doing what he loved the most".
"I love you man, really!" he wrote. "Who's gonna prepare me the coffee in the morning when I sleep in my car next to your van? I already miss you so much buddy... but I'm sure that we'll meet again one day... and thanks for waiting for me between the trees after my first WS BASE ;).
"GOOD BYE my kiwi brother, I love you, fly free and cut those ugly mustache!!! (sic)"
A Ministry of Foreign Affairs spokesperson said the ministry is aware of the death, and the New Zealand Embassy in Rome is liaising with the local authorities. The embassy will be providing consular assistance to the victim's family, when the family is notified of the death.
The tragedy follows the death of skydive instructor Alan Malcolm McCandlish, 31, who died in a base jumping accident in Switzerland in July.
Last year, another New Zealander, Ted Rudd, 35, died after a failed jump in Norway.
Base jumping involves leaping from fixed objects - buildings, antennas, bridges, or cliffs - before parachuting to safety.
- nzherald.co.nz