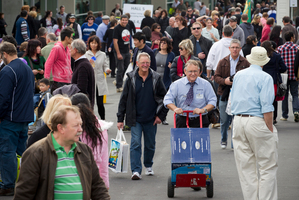 This year's Auckland Home Show was the hot place to be at the weekend, with thousands of people turning out.
Organisers said close to 50,000 people attended the annual show, which ran from Wednesday through to yesterday in Greenlane.
Exhibition director Amanda Magnus said exhibitors had noticed a change in people: more people were building or renovating their homes or thinking about doing so.
"There's a lot more confidence out there ...
"It's been crazy busy! The queues are crazy - you have to do the slow shuffle to get around the show ...
"I think we ran out of some stuff - show guides, show bags and water in the water coolers - and we already had 20 per cent more water than what we had last year."
Last year's event drew in just over 46,000 paying adults.