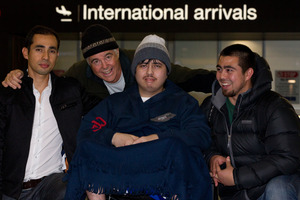 Simon Donaldson, an intellectually disabled young New Zealand man who was held in chains by his mother in Indonesia, arrived in Auckland last night with his father and brother heading for a new home in New Plymouth.
Simon, 26, suffers from leukodystrophy, which causes deteriorating motor skills, seizures and bouts of dementia. His mother, Marisa Yuhanie Latinia, of Surabaya in Indonesia, believed he was the victim of black magic.
Her ex-husband, Wanganui-born businessman David Donaldson, battled Ms Yuhanie for custody of their son for years but she had demanded the equivalent of $6 million to release him to his father's care.
After Indonesian authorities intervened, he was removed from his mother in July and has been under assessment in a Surabaya hospital.
A tense meeting with authorities on Saturday led to the young man being released into his father's care. He was born in Indonesia but deemed an overstayer because of the NZ citizenship conferred by his father.
Simon landed at Auckland Airport with his father, British-based older brother Alex, two aides from New Plymouth's Omahanui Hospital, where he will live, and an Indonesian official.
Jakarta-based David Donaldson said he felt "emotionally drained" but very relieved.
"It's a great weight off my shoulders. It's been going for so long and there's been so much antagonism between myself and my ex-wife."
He credits a photograph of Simon chained to a bed in his mother's home, published in the Herald while Prime Minister John Key was on a state visit to Indonesia, with helping to break an impasse over his care.
David Donaldson said it was overwhelming to be on home soil. "We can almost put everything behind us now. We've got Simon here and now the rehabilitation can start ..."