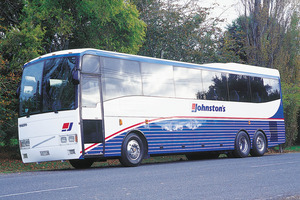 A Johnston's Coachlines coach. Photo / NZHerald
An Auckland bus driver who took stress leave after his wife discovered his affair with a colleague has been awarded thousands of dollars compensation from his former employer.
Peter Priest suffered an emotional breakdown on Christmas Day in 2009 when his wife found out about his affair with another employee at Johnston's Coachlines Limited (JCL).
Mr Priest, who had been a driver for the company since 2006, went on sick leave after his doctor diagnosed him with a serious depressive illness and prescribed antidepressants.
Mr Priest said that at the time, he was reassured by one of his bosses not to worry about his job and that he would continue to be paid.
After turmoil upon his return to work, Mr Priest claimed he was forced to quit and was owed for unpaid wages and serious illness leave.
The Employment Relations Authority has ruled Mr Priest should be paid more than $46,000 for lost wages, unpaid salary, and humiliation and distress.
However, in its ruling, released recently, the ERA said Mr Priest would forfeit 65 per cent of the awarded lost wages and dismissal grievance because he "did not behave with ... good faith towards JCL''.
The dispute followed his return from sick leave in April 2010 after his Christmas Day breakdown.
Mr Priest first refused to drive the Park and Ride route at the airport because he considered it too stressful.
He was challenged by his bosses and finally provided a medical certificate.
But then the company tried to cut back Mr Priest's hours because he did not want to do all duties.
At an employment meeting in November 2010, Mr Priest said he was told he would be dismissed if he didn't sign an agreement reducing his hours.
He went on to hand in his Airbus float, which was given to workers when they commenced employment and kept until the termination of their employment.
JCL bosses took that to mean Mr Priest had quit.
However, Mr Priest said he never had resigned and he continued to be employed at the company.
"I can assure you that I have not resigned and consider myself still employed ... as I have had no official notification that I have been sacked,'' Mr Priest wrote to the company in December 2010.
He said JCL had not provided him with any driving work since October 29, had stopped paying him wages, and, as mediation had been unsuccessful, he instructed his solicitors to notify JCL in April 2011 that he would resign.
The ERA decision found JCL had been supportive during Mr Priest's illness and had offered him additional support.
However, the ERA also found Mr Priest was "unjustifiably constructively dismissed and unjustifiably disadvantaged by his employment''.
His bid for serious illness leave was rejected.
"There was no evidence provided that substantiated Mr Priest's depressive illness as being caused by his work ... other than the fact that the extra marital affair, which had triggered the depressive illness, had involved another JCL employee,'' ERA member Eleanor Robinson said in her findings.
Mr Priest's behaviour not in good faith referred to claims he made to the tribunal that were found to be ``misleading, even disingenuous''.
Attempts to contact Mr Priest and Johnston's Coachlines were unsuccessful today.
- APNZ