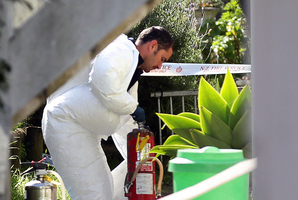 The scene where a man perished. Photo / Doug Sherring
The body of a man lay smouldering in his bed for at least 24 hours before he was found by fire officers, his neighbours say.
The Orewa resident perished in what investigating officers say was an accidental and preventable fire.
Waitemata senior risk management officer George Stephens said investigations revealed the fire had been burning at the weatherboard multi-block Milton Rd flat for more than 24 hours, but because it was starved of oxygen, damage was contained to the dead man's bed.
The death has been referred to the coroner.
There were three smoke alarms in the unit but none was working. "We are confident a working smoke alarm would have saved his life," Stephens said.
Orewa Property maintenance man Wayne Witham said he smelled a "weird, smoky smell" all day Friday as he worked repairing a unit above the dead man's flat. He tried unsuccessfully to find the source of the smell.
Next door neighbour Luke vanDam, 19, also noticed a smell of smoke the entire day but couldn't see any sign of fire.
Front unit neighbour Bird Thompson said the man, who neighbours named Michael Maddock, shifted into the block of flats this year but was keeping poor health.
The same block of flats was the scene of a violent death two years ago.
Gary Marshall was stabbed to death and Natalie Theresa Ford was later acquitted of murder following a High Court trial. She claimed to have been defending herself.