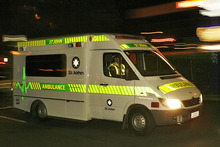 The high-speed crash of a hatchback packed with nine teens landed several in hospital, including one who was riding in the boot.
Police said overloading and driver "bravado" contributed to the early morning crash near the Constellation Drive on-ramp. There were "chaotic" scenes after the VW Golf swerved across several lanes and hit a side rail at about 1.30am.
Anthony Whitehouse, who had been travelling in the boot, was last night recovering in hospital, his friend Jesse Paddock said. "I went to see him today and he's okay. He doesn't know how long he will have to stay in there for."
The father of another teen said his son was lucky to be alive. Mark Morphy said his son Hugo suffered minor injuries. "They are absolutely, very lucky that no one was seriously injured or worse," he said.
The group of male and female teens, all thought to live on the North Shore, were heading into the city after celebrating a joint birthday party at Albany's Sports Bar and Cafe.
Bar manager Amrit Singh said between 150 and 200 people were expected for the girls' birthday function that started from 8.30pm.
During the evening a group of uninvited guests turned up and the party spiralled "out of control" forcing him to shut it down by 11.30pm.
Senior Constable Karl Bevin said: "The scene was initially one of chaos. It's gone from attending a good night on the town to three hospitalised."
Whitehouse was in the boot, a female driver and passenger were in the front and the remaining six people were understood to be in the back seat, with several lying across the seats, he added.
The youngsters were "extremely fortunate" not to have suffered more serious injuries, said Bevin.
Police want to speak to a key witness, the driver of a white taxi with a blue roof light who was behind the VW Golf and paused at the scene after the crash.
Information can be passed to the Serious Crash Unit on (09) 481 0307.
- Additional reporting: Lynley Bilby
By Joanne Carroll

Email

Joanne, Abby Gillies

Email

Abby