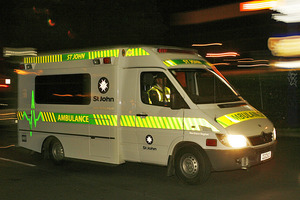 A car carrying nine teenagers, including one in the boot, swerved and lost control on an Auckland motorway early this morning.
Police said a vehicle travelling city-bound on Auckland's Northern motorway crashed around 1:30am after losing control near the Constellation Drive on-ramp.
A VW Golf was reported swerving left and right before colliding with an armco railing.
Emergency Services were called to the scene where nine teenagers, all thought to live on the North Shore, were in the vehicle at the time.
One male was seated in the car's boot at the time of the crash.
City-bound lanes were closed for about four hours while the scene was investigated by the Serious Crash Unit.
One male was taken to Auckland hospital with potentially serious injuries but these were later downgraded to minor.
The female driver and a front seat passenger were also taken to hospital with minor injuries.
Police believed the teenagers were heading from a party on the Shore to the city.
All the occupants were extremely fortunate not to have suffered more serious injuries, Senior Constable Karl Bevin said.
Police were keen to speak with the driver of a white taxi with a blue roof light that paused at the scene when the crash occurred.
Bevin said the taxi driver witnessed the driver's behaviour and the subsequent crash, and was a key witness.
Any details please phone the Serious Crash Unit (09) 481-0307.