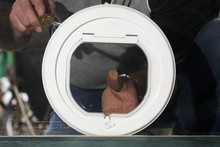 Rotorua cat burglars are turning to cat flaps to gain entry to homes.
Local residents have been warned to check the location of their cat doors after a spike in burglaries.
Rotorua Neighbourhood Support co-ordinator Bruce Quedley said burglars would reach their arm through the cat door to either unlock the door or nearby window.
"Some residents in Edward Payton Gr caught a couple of burglars who were trying to get in by unlocking doors through catflaps.''
Mr Quedley said it was something residents needed to be aware of when they installed a cat door.
"It is quite concerning,'' he said.
"If it is in the wrong place you are just leaving your home open to burglars.''
If people were concerned about the position of their cat door they should check to see if it was within arm's reach of any locks or windows.
"I guess, worse-case scenario is that people would have to take them out and put them in a more suitable place.''
A Grade Glass Services owner Dave Meecham said most people who installed cat doors would try to put them in a suitable place.
"I generally install them as far away from the door handle as possible. A good spot is usually the bottom corner on the side of the door with the hinges.''
Mr Meecham said he was aware burglars tried to gain entry into houses through cat doors.
"People always seem to try different ways to get in and there's some pretty long arms around these days.''
Mr Meecham said cat doors were also getting bigger.
"A lot of people also go for the larger-size door. I probably install about 20 of the larger doors a year and they would be used for smaller, terrier-sized dogs.''
Paul's Glass and Glazing owner Paul Elmiger anyone who with concerns could put in a dead bolt or patio bolt to ensure the safety of their home.
"It just makes it that little bit safer.''