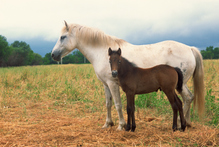 Spotlighters are believed to have shot and killed a pet horse and its foal.
Buller Gorge man Stephen McGrath does not believe that a hunter could have mistaken his daughter's pet horse Dolly for a deer.
Dolly was given to his daughter Rimu as a birthday present six years ago. Its foal, Rice, was at Dolly's feet when both were shot and killed by spotlighters in the early hours of Friday.
Mr McGrath said the horses were just 30m from the state highway. He did not believe that a responsible hunter couldn't distinguish that they were horses.
He has asked the hunting community to "out" the person responsible.
-The Greymouth Star