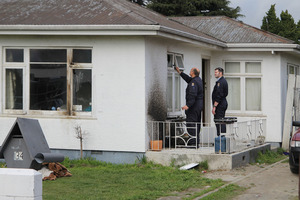 Police have found a car they were seeking in connection with the Molotov cocktail attack on a Christchurch house.
Detective Damon Wells said the Honda Accord was located about an hour's drive south of Christchurch after a tip-off from a member of the public. He would not specify where the car had been found. A man police are seeking in connection with yesterday's early morning firebombing is still on the run.
Five people, including a 12-year-old girl, were asleep in the Amyes Rd Hornby house when two Molotov cocktails were thrown through a window about 12.10am.
The offender is believed to be a man in his 40s who had been stalking a 45-year-old woman boarding at the house.
The woman said the man became enraged when he went to the property and found her new boyfriend's car parked outside.