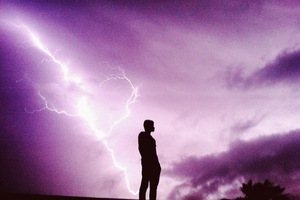 Heavy rain and high winds are forecast for parts of the South Island today and tomorrow as Canterbury cleans up after last night's dramatic electrical storm.
MetService has issued a heavy rain warning for Fiordland, Westland south of Otira and the headwaters of the Canterbury's lakes and rivers, and a strong wind warning for inland Southland and Clutha.
In the 24 hours from midday tomorrow, 100-150mm of rain is expected about Fiordland, with thunderstorms possibly later tomorrow.
Rain is expected to become heavy in Westland tomorrow afternoon, with 150-200mm forecast in the 21 hours from 3pm tomorrow.
MetService is forecasting northwesterlies to rise to severe gales in exposed inland parts of Southland and Clutha from 9pm today through to midday tomorrow, reaching gusts of 120kmh.
While the conditions have eased about Canterbury, northwesterlies gusting to severe gale are possible over inland Canterbury later today.
Last night's lightning storm over Christchurch gave Cantabrians an opportunity to hone their photography skills, with more than 140 "cloud to ground [lightning] strikes" within a 150km radius of Cathedral Square, according to MetService.
The Fire Service received more than 20 callouts last night, with large hail stones damaging conservatories and high winds partially lifting one Christchurch house's roof.
Power was cut off in the Southbridge area due to a lightning strike, however Orion said most customers had power restored by 8.14pm, with the remainder restored by 11.55pm.